I first started watching Grey's Anatomy in my early twenties, completely emotionally enthralled and convinced that the complicated and often ludicrous story lines were mirroring my relatively unexciting life. But I came back to it more recently, watching from the very beginning and was surprised to see so many traits I now consider to be Keri-isms, practices I had adopted as my own, actually stemmed from Grey's Anatomy. So here are my top 5 ways to live life according to Grey's Anatomy.
1. Dance it out. 
 When  life hands you lemons, throw them back and shake your thing to your favourite tunes. Stressed? Dance it out. Pissed off? Dance it out. Overwhelmed? Dance it out. And we're not talking about your best tried and tested moves on the dancefloor, we're talking about flailing around your kitchen in your pants with zero care for what you look like. It's magical. Trust me. My tune of choice is 'Something Good Can Work' - what's yours? 
2. Spread good juju. 
Addison Sheppard brought hot chocolate (could have been coffee) to give out to colleagues in order to spread good juju. She made a point of doing this for someone she hated as well as those she liked. A much younger me once worked in a factory. There was a time when the machines weren't working properly, causing much stress and panic. The problem went on for weeks. I couldn't help fix the machine but I could help keep the spirits of those who were trying to fix it lifted. So I brought in baked stuff a few times. When not vibing with someone or just plain not getting on with them I also look for ways to do something nice for them. Spreading good juju. There's a lot to be said for the impact this has on you and the person you're jujuing. Just made that word up.  
3. In times of stress, bake. 
 My therapy is baking. There is something about the process as well as being able to share your wares with people afterwards. Izzy Stephens is a great one for this and mid meltdown can often be found in the kitchen over doing the baking. There's also a lot to be said for feeding people in difficult times. You may not be able to help sooth loss or tragedy but you can always provide cake and that's a little bit of therapy in itself. 
4. Superhero Pose
 Amelia Sheppard touches on a technique known as supoerhero pose before heading into an impossible surgery which she aces; obviously. But this is a real thing. I first encountered it reading Susan Calman's book. You can read my review here. It's what Amy Cuddy, American Social Psychologist, calls a power pose. She claims that research shows standing in a power pose like this one reduces cortosol levels and increases teststerone. Doing this for two minutes before an important meeting, an interview or a challenge of any sort can make you feel more confident. It's also quite good fun to try. So plant those feet hip width apart, stick those hands on your hips, raise your chin and look up. Now go get 'em!
5. Have a 'person'.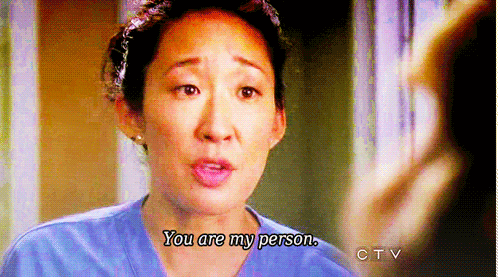 When Cristina has to put down an emergency contact on her abortion paperwork she picks Meredith to be her 'person'. A role which means so much more as we see it referred to and called upon throughout their relationship. Your person should be someone who you can call on to have your back through thick and thin. They take your side, treat secrets with lockdown and when the 'person' card is played, they're there without question. We should all have a person.  
Please reload